Welcome to Your Hamilton Dentist
Our doors have been open to new patients since our practice was founded in 1975. Whether you're considering us as a new dentist, or if you're preparing for your first appointment, we're glad to meet you!
Image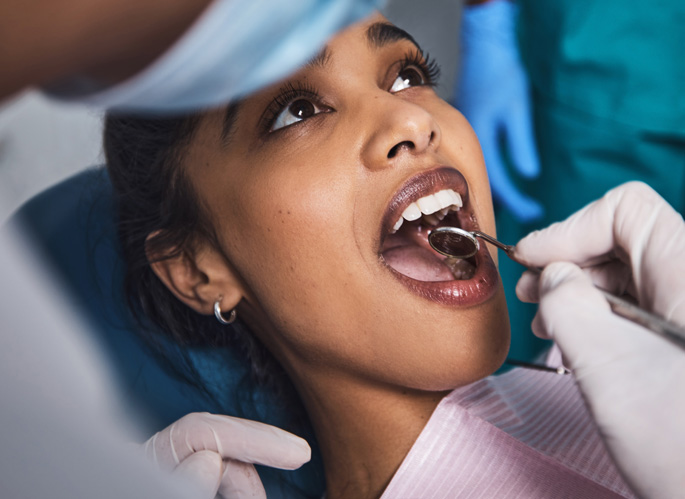 What to bring to your first appointment
Please try to arrive ten minutes before your appointment so you'll have time to go through our intake process. You'll need:
Your family doctor's name and phone number
A list of medications, allergies, and medical conditions
Your health insurance card and booklet, if you have one
New Patient Forms
New Patient Intake Form
Patient Screening Form
Appointments
At Gage Park Dental, we do our best to manage the schedule carefully and efficiently so dental and hygiene professionals can fully dedicate their time to your planned treatment.
Our staff will set a specific time for your dental visit. Please arrive on time to receive the comprehensive oral care you require, without any significant wait time.
We understand that unexpected events may cause a late arrival. If you arrive late, we will attempt to accommodate your needs without disrupting our scheduled time with other patients, but please let us know as quickly as possible.
If you cannot keep a scheduled appointment, we ask that you provide us with at least 48 business hours' notice to avoid possible charges so that we may offer your appointment time to another patient. We offer to confirm your appointment via email or text for your convenience.
Insurance Policies
Your insurance plan is a contract between you and the insurance carrier/your employer. You are responsible for your account, not the insurance carrier. We ask that you provide our front desk team with your policy numbers and coverage information and inform us of any changes to your current dental insurance policy and personal information. Where possible, we will assist you in optimizing the benefits available under your policy. Our office will submit your claims to your insurance carrier as a courtesy to you. We offer electronic submission (EDI) to expedite the claim process.
When extensive treatment is planned, we will send a detailed estimate or pre-determination to the insurance carrier(s) involved. In most cases, the response is sent to the insured/employee within 2-3 weeks. Please note that the insurer will communicate predetermination results directly with you for privacy reasons, not the dental office.
Financial Policy
We accept Visa, MasterCard, and Debit. If you have questions regarding your account, please contact us at our office. We will electronically submit the insurance forms for your reimbursement. If you require payment plans, let us know, and we can provide you with further information.
Privacy Policy
Privacy of personal information is an important principle in our office. We understand the importance of protecting your personal information, and we respect the privacy of all our clients. All contact and personal information gathered is for internal purposes only and will never be shared with any third party without prior notice or consent. We comply fully with the federal privacy legislation, the Privacy Information and Protection and Electronic Documents Act (PIPEDA).
Payment Plans
At Gage Park Dental your dental care is our top priority, and we understand that financial constraints can arise. Therefore, we are always willing to work with you to ensure you are receiving the utmost care without barriers. We offer various interest free payment plan options to help maintain your smile at an amount that is manageable for you. If you require a payment plan or would like to discuss available payment plan options please give us a call.